Double Black Imaging Promotes a Healthy Reading Room and Increased Productivity with Ergonomic Workstations
Date: 
Double Black Imaging and their Image Systems division are focusing on increasing productivity, the end user experience, and creating a healthier reading room at this year's RSNA.  They will be exhibiting the Carl's Table with Verte Chair along with their new G series large format LED backlit displays.  The Carl's Table is the most advanced radiology desk to date and has earned the Best of NeoCon Gold award.  The Carl's CT15 allows the user to sit, stand, or recline, all at the touch of a button; multiple user profiles are supported, making this the perfect fit for a busy reading room.  Each desk is customized to fit the needs of the user and enterprise: multiple monitor configurations are easily supported, an ambient light system reduces eye strain, air circulation features add comfort, and acoustic wrap-around panels help absorb sound within the reading environment.  The Verte Chair paired with the Carl's Table molds itself to the unique shape of the user's spine, making this workstation the ultimate in reading room comfort and ergonomic workstation solutions.
Double Black Imaging is proud to be the largest medical display supplier and calibration software developer who create 100% of our software and perform 100% display system integration in the USA.  Our team has a renowned history of providing the industry's finest customer service; we are continually acknowledged by thousands of Radiologists and IT Professionals who put their trust in us every day.  We are dedicated to developing innovative imaging solutions that greatly improve image quality and stability. Making imaging more efficient and reducing healthcare costs are the cornerstones of what DBI stands for.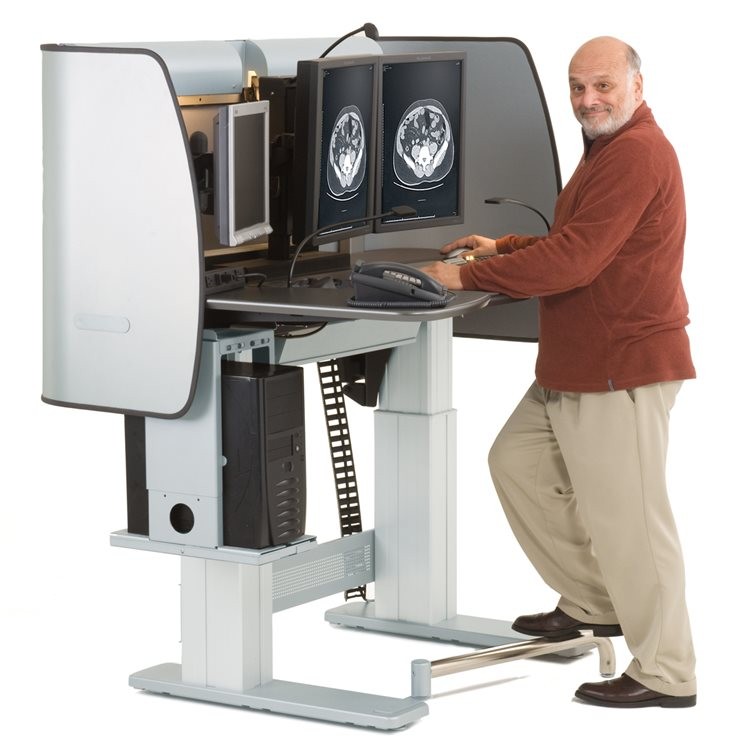 Looking for more information about Double Black Imaging or our products ?