Double Black Imaging Announces the Phoenix II Workstation for RSNA 2022
An ideal Radiologist workspace should emphasize productivity, optimize workflow, and promote a healthy work environment. The ability for Radiologists to adjust key factors at the workstation such as lighting, sound, desk height, the height and depth of the displays directly impact their productivity and comfort. In addition, radiologists who have more control over their working conditions may work longer in the profession with a greater degree of job satisfaction. These factors can positively influence the culture of a clinic or hospital.
Double Black Imaging is pleased to announce their new Phoenix II workstation this year at RSNA, combining all of these abilities into a Radiology workstation that optimizes productivity, comfort, and workflow.  "The Radiology department produces roughly 40% of a hospital's revenue.  Ensuring Radiologists have a Radiology workstation that's purposefully built for Radiology will not only improve productivity up to 28% but it also can prevent costly injuries caused by repetitive motion or improper ergonomics.  The cost of several workstations would be easily covered by the prevention of a single workplace injury meaning an ROI measured in weeks." says Dave Minamoto, Ergonomic Product Manager for Double Black Imaging. "The Phoenix II is our flagship in a full line of ergonomic workstations built specifically for Radiology.  All of our workstations are made in the USA with German made actuators and designed with additional cross bracing prevents buckling over time as seen with other brands. Each DBI purpose build workstation is designed specifically for the radiology environment – not a "re-tasked desk" that Radiology departments often encounter. We don't ask our customers to make compromises."
The Phoenix II features include:
Comfortable waterfall edge finish
Ez-Track Monitor mounting system with height and depth adjustment
Electronic sit to stand capability, 4 presets with soft collision safety stop sensor
Bluetooth Capability
Privacy panels for ambient sound and light abatement
Desktop power with additional USB ports
Wireless mobile phone charger with Pop Up USB charger
Dimmable Gooseneck task lighting to reduce eye strain
Adjustable ambient backlighting to reduce eye strain
Built in personal air circulation
Sturdy CPU Rack that moves with the workstation, positions adjacent to cable management compartment for ease of set up and eliminates cable disconnection issues
Sleek, Integrated wire management
Optional Monitor, CPU, and/or seating bundles
To learn more about the Phoenix II Radiology Workstation, visit: https://doubleblackimaging.com/product/phoenix-ii/ and visit them at RSNA booth #3705.
About Double Black Imaging
Double Black Imaging is proud to be the largest medical display supplier and calibration software developer that creates 100% of their software and performs 100% display system integration in the USA.  Their team has a renowned history of providing the industry's finest customer service; Double Black Imaging is continually acknowledged by thousands of Radiologists and IT Professionals who put their trust in DBI every day.  Double Black Imaging is dedicated to developing innovative imaging solutions that greatly improve image quality and stability.  Making imaging more efficient to reduce healthcare costs is what DBI stands for. www.doubleblackimaging.com
Phoenix II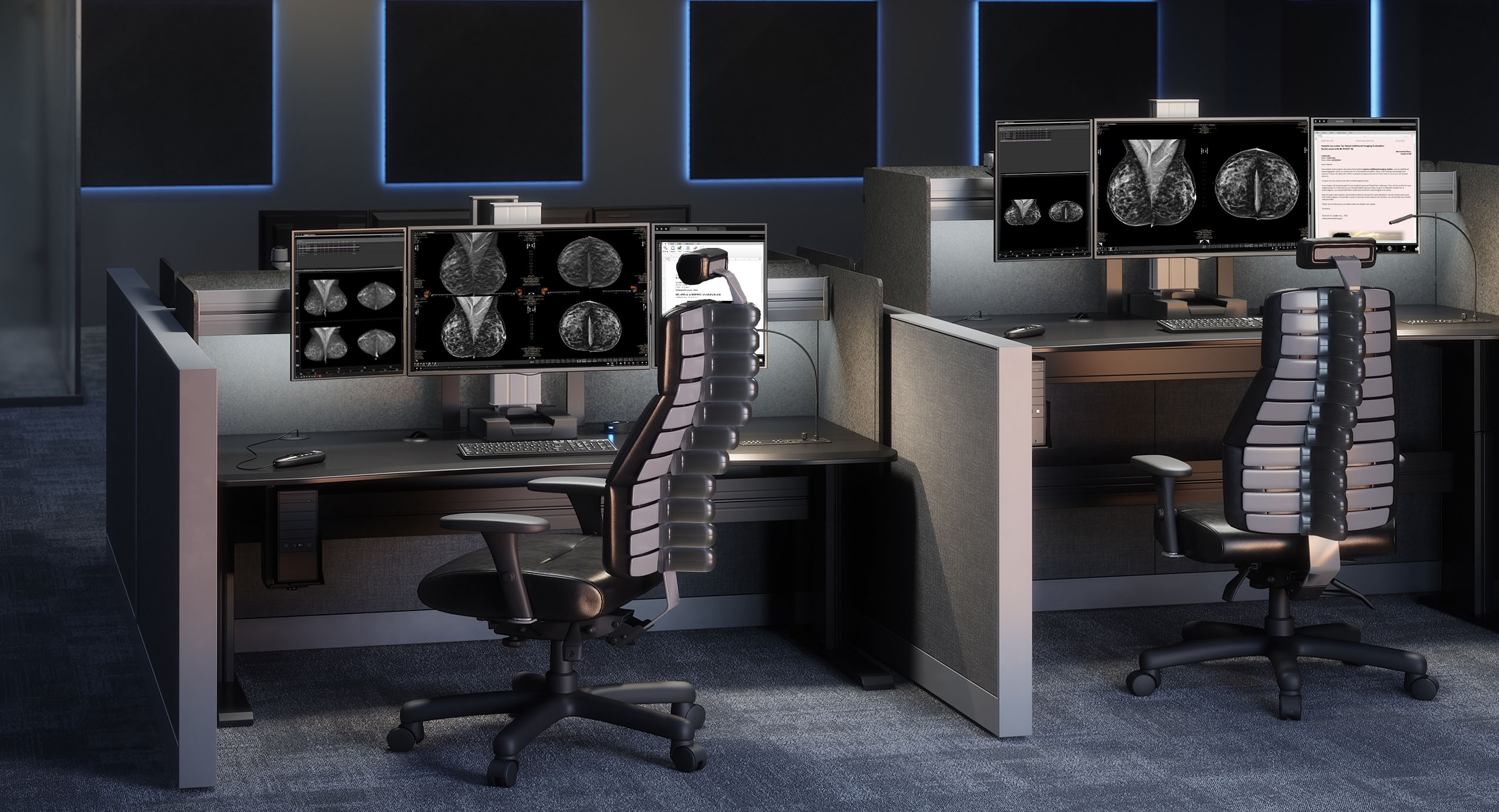 Looking for more information about Double Black Imaging or our products ?