---
Imperfect Images and Discrepancies in Radiology
While the technology in medical imaging is constantly improving, what seems to be constant is the imperfect interpretation of images in radiology. According to a report that was released by the Institute of Medicine (IOM) in 1999, it is estimated that between 44,000 and 98,000 US citizens lose their lives each year due to preventable diagnostic errors. In a more recent study, these numbers have risen to 251,000 deaths. Furthermore, a third of the deaths stem from medical errors, which are heavily impacted by the diagnostics of practicing radiologists. (Waite, 2017)
Errors in the field of radiology image reading are not new according to the pioneer radiologist Leo Henry Garland (1903–1966). He found that even well skilled radiologists make mistakes in interpreting the images. Followed by other studies since Garland, the aim of the scientific studies has been geared towards understanding the basis of such errors and finding strategies to eliminate them. The categories of errors in radiology have been identified as perceptual and interpretive. That being said, perceptual errors are the most common. (Bruno, 2015)
nbsp;
Radiology Education

Before discussing the reasons for these errors, it is important to consider the preparation for the profession. Educating medical doctors in the field of radiology takes many years. Even then, mistakes are being made, which leads a person to wonder if there is a flaw in the educational system. This is according to Eric Postal, MD, who is the author of the article "Why Don't Radiology Textbooks Have Imperfect Images?", which is published on the Diagnostic Imaging website. He found that there may be a disconnect between the radiology textbooks and the actual medical imaging practices and diagnosis.
Eric Postal, MD was a medical student who found that textbooks did not prepare medical students for what to expect when working with real X-Ray images, let alone how to prevent discrepancies in radiology reading. Postal said that it was some time in his radiology residency that he realized something. This was that there were considerable differences between what he saw in textbooks and conferences, and what he saw in cases and reading-rooms.
What he found was that the textbook images were not the same as what a medical professional would see when working in a hospital. He found that the textbook images were perfect for learning purposes, but they did not prepare students for what to expect from real X-Ray images. For instance, "ultrasound pics suffered from shadowing by bowel-gas, or patient inability to position, suspend respiration, etc.," he noted. What he noticed was that real X-Ray images were heavily distorted for many reasons, such as thorough shadowing by the bowel-gas. Consequently, medical students are bound to go through a period of adjustment when trying to analyze X-Rays they did not get prepared to read in medical school. (Postal, 2019)
nbsp;
Most Common Reasons for Radiology Imaging Errors

Errors are inevitably found in every branch of the scientific field, including radiology. Furthermore, the medical field of radiology is far from being exempt from this nature. Imperfect images that are placed before the practicing radiologists are subject to interpretations, making errors a likely outcome. Sometimes there may not be one clear answer but, instead, possibilities of answers. In such uncertainties, it is quite understandable that numerous amounts of errors do happen.[11]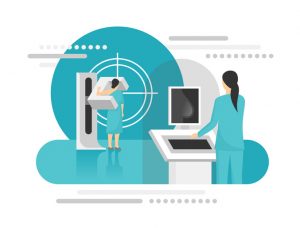 Complexity of medical diagnosis puts the radiologist in a vulnerable position against making mistakes. It is interesting to note that errors made in clinical diagnosis are positively correlated with the errors made in radiological diagnosis. Thus, it is well worth our time to take a closer look at the errors that could be made and how to prevent these discrepancies in radiology. The following are articulations of how mistakes are easily made within the radiology sector.
Unclear images:
Whether it is due to inadequate, old equipment or patients who fail to position themselves well enough for a clear image, radiologists struggle when reading images that are fuzzy, distorted, and unclear. This mistake alone is not due to the lack of the radiologist's ability, but a result of the lack in quality of tools and resources. (Bruno, 2015)
Complexity of information:
Images vary tremendously from one piece of equipment to another, especially when one machine is more advanced than the other. Comparing old images received from older equipment with the images received from newer equipment provide numerous challenges in reading and understanding what is going on in an individual's body. With the advancing technology of imaging, radiologists are faced with learning to interpret new images at a fast pace. Sometimes reading images from newer equipment may take longer due to the lack of training on reading images that are produced from newer equipment. In cases of urgency for medical treatment decisions, late interpretation may impact patients tremendously. (Brady, 2012)
Fast paced work environment and fatigue:
Work overload could be a common issue in radiology. When there are many images to interpret and very little time to interpret them, let alone write reports clear enough to present it to other healthcare professionals, it often results in the radiologist feeling great amounts of fatigue. In cases like this, the error margin increases due to lack of focus from the reader. (Bruno, 2015)
Distractions and Interruptions:
Office related distractions and interruptions such as phone calls, e-mails, questions from other office staff, remote teleconferencing with other health specialists, just to name a few, all impact on the error margins negatively. (Bruno, 2015)
Satisfaction of the research:
Detection of a focused abnormality and diagnosing it may cause the radiologist satisfaction of his/her work and terminate the interpretations prematurely. In cases like this, other underlying abnormalities that may or may not be related to the focused research, but they are easily missed and cause for unnecessary errors. (Bruno, 2015)
Under-reading:
Abnormalities may be clear in the images, but the radiologist may overlook and miss seeing the abnormality. Reporting such errors without further detection could cause severe fatalities in patients' lives. (Bruno, 2015)
Negligence:
Medical professionals are not exempt from making mistakes in their career. However, most of these mistakes are either corrected after later detection or remain relevant to patients' current state in health. When such mistakes exceed the expected error margin, it is considered negligence and may cause the radiologist to face legal disruptions. (Bruno, 2015)
Complacency:
The images may be clear, and the radiologist may be able to identify the abnormality, but interpreting the image in order to find an underlying cause may not be as easy, which has caused many misdiagnoses. Sometimes this may be due to cognitive error, and the radiologist may interpret the reading differently than the real cause. (Bruno, 2015)
Lack of knowledge:
Not all radiology readers are well prepared for their position, and sometimes they lack the necessary knowledge in order to effectively complete the task at hand. The abnormalities may be identified correctly on the images, but the importance of the diagnostic may be overlooked due to lack of knowledge or experience. (Bruno, 2015)
Poor Communication:
In some cases, the abnormalities could be correctly identified, images clearly interpreted, and diagnosis is accurately made. Yet the written report either does not reflect the accurate information or it is not delivered to the physician of the patient due to poor communication channels between the two offices or (Bruno, 2015)
Other complications:
Sometimes the abnormalities are not clearly present in the images for the radiologists to identify due to poor examination or poor technique. Sometimes, errors occur due to inaccurately diagnosed medical history of the patient which might lead the radiologist to inaccurate diagnosis. (Bruno, 2015)
Shortage of staff:
Shortage of staff could cause the workload for every working individual to be overwhelming. As imaging techniques advance, and the study of images increases, the demand for the radiology staff that can interpret the images also increases.
Lack of adequate information:
Lack of adequate information shared with the radiologist could cause errors in the diagnosis. Through these errors, it is proven that the use of teleradiology reporting from remote locations is not beneficial.  The more collaboration between the physician and the radiologist, the better and more accurate treatment decisions are made for the patients.
Location errors:
Location errors in images occur when the objective of the photograph is not visible due to its location. Either the intended focus of the image is on the outside of the image or it is taken from an angle at which the abnormality is easily unidentifiable, because of an overlap in the image.
Lack of technique:
Lack of radiology-based technique for cases that are not possible for interpretations within the limitations of the facilities.
How to Prevent Discrepancies in Radiology

Radiology is a field that supports other medical fields for accurate diagnostics. It requires manpower, expertise, and technology working together in harmony to help other medical fields and patients. Overcoming imperfect images in radiology, finding ways to avoid errors in radiology imaging, and learning how to prevent discrepancies in radiology are an everyday battle for those medical professionals as well as for the private sector companies who take these improvements seriously.
Double Black Imaging is one of the largest medical display suppliers in the United States of America. It is committed to providing the best quality product when it comes to medical imaging technology, diagnostic display calibration software, training, QA/QC services for health imaging, and much more.
References
Understanding and Confronting Our Mistakes: The Epidemiology of Error in Radiology and Strategies For Error Reduction
Michael Bruno- Berner- Samei- Revesz-Donald JJ-Kim YW- Pinto-Ashman CJ- Krupinski-Castellino RA- Mallett- Wilson- Graber-Rosen MA- Gawande- Leape-Bruno MA- Rubin- Bailey-Stephen Brown-Meir Scheinfeld-Jason Itri-Tarek Hanna-Mari Nummela- Department of Radiology- Siegle RL- Quekel LG- Garland LH- Renfrew DL – https://pubs.rsna.org/doi/full/10.1148/rg.2015150023
Interpretive Error in Radiology
Stephen Waite, Jinel Scott, Brian Gale, Travis Fuchs, Srinivas Kolla, and Deborah Reede
American Journal of Roentgenology 2017 208:4, 739-749
https://www.ajronline.org/doi/10.2214/AJR.16.16963
Why Don't Radiology Textbooks Have Imperfect Images?
Eric Postal
https://www.diagnosticimaging.com/blog/why-dont-radiology-textbooks-have-imperfect-images
Discrepancy and Error in Radiology: Concepts, Causes and Consequences
Adrian Brady, Risteárd Ó Laoide, Peter McCarthy, Ronan McDermott
Ulster Med J. 2012 Jan; 81(1): 3–9.
https://www.ncbi.nlm.nih.gov/pmc/articles/PMC3609674/