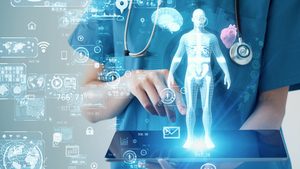 Artificial intelligence has revolutionized the way the medical industry approaches decision-making. Data collected by AI affords healthcare workers and scientists detailed insights and efficient tools that streamline medical processes.  Its scope ranges from scheduling appointments and digitizing medical records, to drug dosage algorithms and adverse effect warnings when multidrug combinations are prescribed.  From its early days being used for administrative work, AI has become an indispensable tool in several branches of medicine, most significantly in medical imaging.
How AI Can Help Make Data-Backed Decisions
During the last decade the use of data has become increasingly valuable and crucial in businesses across the world.  This is especially true in the medical industry.  Hard data is the panacea.  It enables professionals to make faster and more accurate decisions by setting aside biases and information gaps.  This awareness has led to major players in the medical industry allocating significant investments into tools that can help capture, store, and leverage data resources in order to stay competitive in a rapidly evolving global landscape.
Radiology, CAD (computer-assisted diagnosis), and MRIs are some of the primary technologies that have efficiently incorporated AI.  By implementing AI, healthcare professionals are able to access much more accurate, sensitive, and specific data that aids in the detection of small radiographic abnormalities that lead to improved diagnosis and treatment. Processing significant numbers of medical images has become faster, ultimately expediting the detection of disease characteristics that would normally go unnoticed by the human eye.  Additionally, false-positive diagnosis can be greatly reduced by AI identifying and flagging abnormal exams.  This is especially helpful for computed tomographies, X-rays, magnetic resonance images in high volume settings, and hospitals with less available human resources.  Furthermore, finding reliable data that can go undetected by humans such as molecular markers in tumors is much more accurate with this tool.
How AI is Impacting Radiology
AI shows special promise in radiology because it will increasingly optimize workflows, facilitate quantitative radiology, aid the discovery of genomic markers, and much more. AI has become essential for both diagnostic and therapeutic purposes.  By recognizing complex patterns in imaging data and providing quantitative assessments of radiographic characteristics, healthcare professionals are able to make much more informed decisions and provide better patient care.
In the coming years, AI will radically transform radiology, particularly with Artificial Intelligence in Medical Imaging.  It will impact clinical processes by reducing administrative burden as well, ensuring billing efficiency, procedure integrity, and fraud detection.  Not only will healthcare professionals be much more efficient but they'll be able to focus much more on patients with the help of automation.  Decades of entrenched data silos that exist in healthcare facilities will be digitized and automated.  This way the entirety of patient records will be available to healthcare professionals.  They'll have a comprehensive patient story which can be easily accessed instead of having to manually hunt down data across systems.
Recent Improvements Using Artificial Intelligence in Medical Imaging

The core purpose of AI is machine learning.  From its early days in radiology it has been used to understand how to classify an image (i.e. whether it had a tumor in a specific area). In its early days, machine learning required users to input and determine a significant amount of data.  However, the aim of using AI is for it to implement deep learning. Deep learning doesn't require explicit user input and learns much more from the data it accesses.  With deep learning, high-level features can be extracted from raw image inputs, disentangling abstractions and it can determine how its performance can improve.
Though the concept of deep learning was approached decades ago, it has not been feasible until now.  Using deep learning Artificial Intelligence in Medical Imaging, momentous improvements in research have been demonstrated. A study by Ardila et al proposed a deep learning algorithm to predict the risk of lung cancer using patients' current and prior CT volumes. The model achieved advanced performance on 6,716 national lung cancer screening trial cases.  Compared to conventional screenings which have risks of false-positive exams, overdiagnosis, diagnostic evaluation complications, and radiation exposure, AI diagnosis performed 94.4% under the curve, significantly reducing these risks.
Workflow Efficiency Using Artificial Intelligence in Medical Imaging

Using AI for medical imaging, not only improves patient care, but also optimizes workflows significantly.  Automating processes saves time and can make the difference when a patient's life is at risk.  With the new normal, automation is becoming more crucial than ever as more radiographers and other medical staff may experience burnout.  Intelligent imaging features make images easier to read and can catch details that may go undetected by the human eye especially if radiologists are fatigued, have little experience, or there's a high volume of studies to review.  Additionally, exams can be carried out quicker and workloads can be reduced by assigning monotonous tasks like segmenting structures to AI.
Among the most prominent features that have greatly improved workflow efficiency in medical imaging is image capture.  Using artificial intelligence in medical imaging software, quality image capture is greatly improved.  This means radiologists have improved visualization and consistent presentation.  Patient care becomes much more personalized due to the radiation dose being optimized and custom preference looks can be implemented.
Not only do AI-driven radiology solutions provide consistent quality and imaging, but they also reduce retakes and don't require additional training.  This tool enables more quantitative imaging that detects lesions that may be subtle and can go unnoticed when radiologists aren't fully focused.  Moreover, best sanitary practices are easily implemented by radiographers because the time they need to be in close contact with patients for positioning is reduced.  This is especially crucial when there's infectious diseases.
AI solutions continue to be developed at a rapid pace. The long-term impact it could have on patient care is momentously promising.  Radiology generates large quantities of digital data as images.  Using artificial intelligence in medical imagingto include this data into patients' clinical history will significantly improve diagnosis, treatment planning, screening, follow up, and prognosis.  By using the right AI tools for your healthcare facility, you'll not only ensure business continuity but considerably improve patient care.
With over 25 years of experience in the high-performance display industry, Double Black Imaging provides ways to make imaging more efficient.  Dedicated to building long-term customer relationships, they are committed to supporting quality products with exceptional customer service.
A nonprofit Healthcare Organization with 12 hospitals stated:
"Our experience with Double Black Imaging and WIDE monitors in our enterprise has been excellent. The product selection and quality has been great to fulfill our needs.  Technical support has been excellent from Double Black Imaging, X-CAL can be run from a server if you have a multi-hospital enterprise as we do and can save the PACS administrator a lot of time."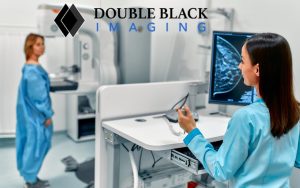 Whether you're looking to implement AI into your medical processes or furnish your healthcare facility, Double Black Imaging offers the latest technology at competitive prices and can help install your new device.  Contact our team of radiology imaging experts at Double Black Imaging for help with making the most of your purchase or take a look at our latest medical monitors.