---
What Is Interventional Radiology?
Interventional radiology (IR) is a medical sub-specialty of radiology that performs minimally-invasive procedures with the aid of medical imaging devices to diagnose and treat diseases in nearly every organ in the human body. Most areas of hospital medicine and ​​patient management have been impacted by IR. With the help of these devices, interventional radiologists interpret the images to guide, monitor, and provide appropriate actions during medical procedures, thus ensuring patients' safety.
All professionals that practice IR are board-certified, fellowship trained physicians who have graduated from an accredited medical school, passed a licensing examination, and completed at least five years of graduate medical education. Additionally, they have undergone one of the various paths to board certification, specialized training programs certified by the American Board of Medical Specialties (ABMS) and have been certified by the American Board of Radiology. To become certified by these boards, interventional radiologists must prove their expertise in radiation safety, radiation physics, and the biological effects of radiation and injury prevention. Furthermore, they must show their thorough proficiency in invasive treatments as well as diagnostic and clinical experience.
What are the benefits of interventional radiology?
IR procedures are steadily increasing in popularity because of how effective they are in comparison with traditional surgeries. IR procedures often mean reduced costs, decreased recovery time, reduced risk, and less pain for patients. In fact, in many cases they don't even need to be carried out in a hospital.
Reduced costs: Hospital stays and general anesthesia are often what make surgical procedure costs high. IR means the invasive procedure will be minimal as well as effective and precise, and patients will be sleeping in their own bed that night.
Quicker convalescence: Typically, patients recover much faster from an IR procedure than traditional open surgery methods. For instance, a hysterectomy can take weeks to fully heal from, whereas having a uterine fibroid embolization (a procedure using IR) takes days to recover from.
Reduced risk: General anesthesia is unavoidable in open surgery. However, with IR procedures, local anesthetics are applied to the area that will be treated. This eliminates the risks of going under the full effect of the medically induced coma, as well as the risk of patients' inner organs being exposed to bacteria for a prolonged period.
What kind of procedures are performed in interventional radiology?
Even though interventional radiologists are skilled in various techniques, procedures often fall into three main categories:
Arteries and Blood Vessel procedures: The shrinking of arteries and blood vessels can restrict blood flow. Lack of blood flow to limbs may lead to amputation in some cases. To treat this, interventional radiologists use balloon angioplasty (a kind of balloon) or metal springs to hold arteries open, or they can help save limbs by infusing clot-busting drugs directly into the artery via small catheters.
Hemorrhage is one of the most common vascular emergencies that IRs treat. Bleeding can come from anywhere in the body and is often stopped by blocking the vessel. Interventional radiologists often prevent hemorrhage during surgical procedures with a stent gaft or by blowing up a balloon in the vessel.
Non-vascular intervention radiology: This technique is often used for treatments in the field of oncology, but treatments are also efficient when it comes to benign tumors. The aim of this treatment is to shrink or destroy tumors that are either at their primary site or have spread. Ultrasound, computed tomography, or magnetic resonance are the kinds of imaging often used in tumor therapies. Ultimately, the goal of this intervention is for patient survival.
Kidney stones and gallstones are some of the most common abdominal diseases. Kidney stones cause pain, infection and blockage of the kidney which can lead to irreversible kidney damage if it's not treated quickly. With the help of IR, an endoscope can be accurately passed into the kidney through a small skin incision which enables surgeons to break the stone, pull the fragments out or drain urine from the kidney.
Gall stones are cured with laparoscopic surgery, where IR is used to ensure greater precision during the procedure. Sometimes interventional radiologists are required to perform drainage by placing catheter tubes through the liver to either remove the stones or place stents to allow drainage.
Therapeutic and Diagnostic Specialty
The range of techniques used in IR help target therapy and diagnosis more precisely. The aim of IR is to diagnose and treat patients using the least invasive techniques, ultimately minimizing risk to the patient while improving their health outcomes. IR is often a great option to traditional open surgery and is increasingly becoming a primary approach to treat various conditions. IR professionals often collaborate with other physicians to provide patients with a comprehensive evaluation and manage image-guided interventions. Some of the most commonly implemented image-guided therapeutic and diagnostic procedures include:
Gastrointestinal
Hepatobiliary
Genitourinary
Pulmonary
Musculoskeletal
Central Nervous system
Get started with an ​​interventional radiology suite that will improve your patient care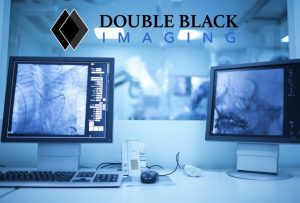 When it comes to making an important investment in your healthcare facility, you want to make sure you do so through a reliable company that has a thorough understanding of your needs. With over 30 years of experience in the high-performance display industry, Double Black Imaging provides ways to make imaging more efficient. Dedicated to building long-term customer relationships, we are committed to supporting quality products with exceptional customer service.
Double Black Imaging offers the latest mobile medical imaging technology at competitive prices and can walk you through how to implement it in your healthcare organization. Contact Double Black Imaging for help with making the most of your purchase, or take a look at our latest medical imaging technology.