---
Different Types of Ergonomic Radiology Workstations
With the radiology technology developing at breath-taking speed, the number of images viewed daily has increased in radiology departments. This has led to several workplace-based problems such as repetitive stress injuries, visual problems, headaches, and musculoskeletal problems in radiologists, who spend a lot of time at their workstations. With 58% of radiologists reporting symptoms of repetitive stress injury and many spending over eight hours a day at their desks, it is vital to ensure that workstations are set up correctly to avoid these types of health problems.
Double Black Imaging offers a wide range of ergonomic workstation options to fit your working environment. The expert technicians consider available space, adjustment patterns, ambient lighting, and other aspects to make customized recommendations.
Ergonomic fixed-height desks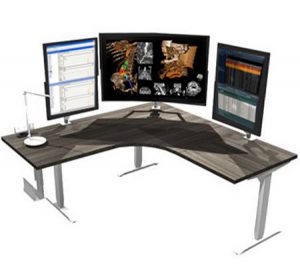 A fixed-height desk is a cost-effective option of setting up an ergonomic workstation. Double Black Imaging's customizable options allow you to design your workstation according to the ergonomic parameters that match your needs and workflow.
With the ability to add unlimited accessories, you can easily create an ergonomic workstation at less cost than a sit-stand workstation. Although not as universally ergonomic as a sit to stand station, any fixed height desk can be converted to a sit-stand workstation with the new Workfit-TX. Users can also enhance their physical support with the Verte Radiology Chairs to maximize comfort and reduce back and neck pain.
Electric sit to stand workstations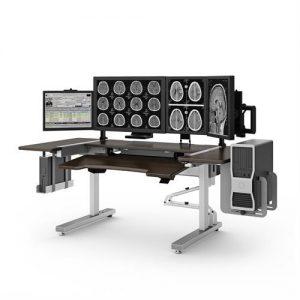 Sit to stand workstations ensure the comfort of the radiologist. Ergonomically developed to allow radiologists to move and change positions, they are designed to promote health and wellbeing. Although initially more costly than a fixed desk, they can be quickly adjusted to fit the needs of every user, meaning that they are suitable for the whole team. Double Black Imaging's range of sit to stand workstations have been designed to support the heavy load of all the monitors and accessories required in a radiology department.
From the innovative Phoenix Tilting Ergonomic Workstation to the popular classic, the Sit & Stand Station, you are sure to find the workstation that will enhance your health, your workflow, and your diagnostic capabilities with Double Black Imaging.
Wall mounts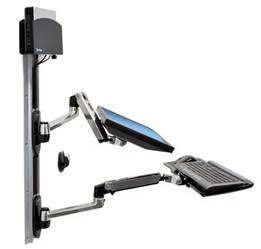 If you are looking for a space-saving, cost-effective option in your radiology department then a wall mount may be the option for you. Height adjustable, with the ability to add keyboards and dual monitors, they are one of the least expensive options to consider. Quick and easy to install, a range of configurations are available from Double Black Imaging.
Medical carts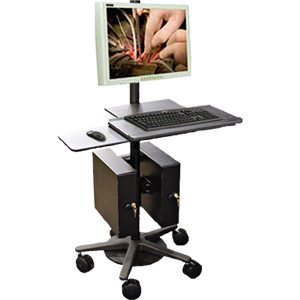 The benefit of a medical computer cart is portability. Compact and mobile, you can move a medical computer cart with you as required. It is important to remember that a medical cart cannot hold as many monitors as a static desk and is not as ergonomic. However, it provides you with a low cost, mobile, and space-saving workstation option.
Additional workstation options to consider. 
When setting up a workstation, there are several additional options to consider.
•

Wellness screens

are a protective barrier that helps prevent the spread of germs. Made of clear acrylic, these screens are easy to clean and sanitize.
• Double Black Imaging offers several

soundproofing systems

to reduce volume, increase privacy and productivity in the radiology reading room.
• The problem with a radiology workstation is that it holds many monitors and electronics, meaning many cables. A cable management system discreetly collects your cables and cords in a single, tidy place.
• To ensure your radiology workstation is fully functional, consider which of the following accessories you may need to incorporate: monitor mounts, cable management, CPU storage, USB charging station, lighting, height-adjustable control, and multi-level work surfaces.
Deciding on the correct radiology workstation can be a daunting prospect. Double Black Imaging offers an onsite radiology equipment survey to assess what workstation will be best for you. Our engineers treat each workstation as an individual solution to provide you with specific recommendations for each surveyed workspace. With years of experience, the team develops recommendations based on industry best practices and insider-knowledge of PACS, mammography/tomography, clinical, and surgical applications.
Contact our diagnostic imaging experts today to discuss your radiology department requirements.