---
Tips for Radiology Reporting Online
Radiology reporting online has become a primary means of communicating results of radiology imaging.  As this change has evolved, the requirement for immediate availability of results has emerged.  Previously, radiologists took a few days to write their reports and communicate results with the managing physician prior to releasing those results to the patient.
Now, with the development of teleradiology reporting via portals, patients usually obtain access at the same time the report is made available to the referring physician.
Radiologists have two primary concerns about how these requirements impact their practices.
A delay in access to personal health information can result in a hefty fine.
Remote radiology reporting has become the primary means of communication between the radiologist, the referring medical doctor and the patient.
While clarity has always been a focus, we must be able to convey that information to 2 or more distinct audiences.
Here are some tips for creating effective radiology reports online:
Keep Your Reports Clear and Concise
When writing your report for publication in the online portal, use of standardized sections provides a consistent organization across all reports and simplifies the content for both the patient and the referring physician.
The following five sections help provide the structure of the report:
Clinical Referral and Medical History

Reason for the referral (clearly and briefly)
Clinical problem being investigated
Indicate if insufficient clinical information limited full interpretation
Justification of radiation exposure, if warranted
Procedure/Technique

Name of the procedure(s)
Description of the procedure(s)
Variations in the standard procedure(s)
Contrast medium
Route of administration
Type of contrast
Dose of administered
Adverse reactions
Medications given while in the radiology department
Suboptimal features and any impact on the interpretation of results
 Radiation dose (if applicable)
Evaluation Results/Findings

Description of abnormalities, organized systematically
First address the findings that pertain to the clinical diagnosis and suspected pathology
Use accepted terminology and precise language

Include details about the abnormalities
Dimension
Signal intensity
Attenuation
Echogenicity
Density

Positive or negative features that impact the interpretation
The site of any abnormalities and the relationship to other structures
Reference which images in the report best illustrate the abnormality
Any incidental or relative negative findings
Compare the current findings with previous studies (if available)
Use the term "normal" rather than "unremarkable"
Summary/Conclusions

This is one of the most important sections to the patient
Use clear and concise language to avoid confusion and minimize anxiety
Because of its importance, this section is addressed later in this article
Recommendations/Next Steps

This is another one                                                                                                                                     of the most important sections to the patient
This section is also addressed later in this article
Unique and Patient-Specific Reports Make The Patient Feel Valued
When a patient sees specific information about themselves in your report, they understand that you see yourself as a member of their healthcare team and that you are concerned about them.
Reserve judgment about sensitive topics, such as smoking, alcohol use or body build.
Use of Structured Reporting Presents Standardized Information In A Clear, Organized Format, Tracking The Attributes of Each Finding
We have provided an outline for structured reporting in radiology in this article.  Using structured reporting, you can present standardized information in a clear, organized format.  You can track each finding, and you are prompted to complete all required fields to create consistency in subsequent reports.  Further, physicians who regularly make referrals can follow the structure and scan to areas that are important to the treatment plan.
Other benefits to using Structured Reporting include that can result in:
More time efficiency
Support for automated billing and order entry
Helping research analysis and decisions
An improvement in communication of radiology results
Easier retrieval of data for comparison, audit and research
Standardized section headings and sequenced observations with templates or checklists
An easy way to implement standardized language and vocabulary
Improved clarity, reduced ambiguity, and increased confidence in the findings and recommendations
Organized communication with patients
A method of giving patients information about their condition that is easily understood and organ-specific which helps guide healthcare decisions
While structured reporting increases certainty and clarity, often there is uncertainty in the interpretation of the findings.  Clearly communicating uncertainty is vital to clarifying the nature and extent of that uncertainty so that physicians and patients can understand the degree of confidence in the findings and use it to guide clinical decision making.
Include A Short Summary Wrapping Up Everything Covered In The Report
As stated before, patients are most interested in the conclusions and summary/recommendations of the written report.
This section should not be a mere repetition of the findings.  It should improve understanding of the findings and have clear next steps.  Be sure this section addresses the following:
States an overall impression that gives a comprehensive review of:
Imaging features
Clinical information
Laboratory findings.

States the diagnosis with the greatest possible precision (if not possible, provide an appropriately ranked differential diagnosis)
If use of a differential diagnosis is necessary, it should be

Relevant
Limited
Should explain how it supports or denies the referring diagnosis

Be sure that the conclusion relates to the original presentation of the referral

Discuss relevance of incidental findings
Restate adverse events
Include Advice For What To Do Moving Forward
Provide a message directly to the patient which indicates normal or abnormal findings and next steps.  This will help reduce patient anxiety.
 Avoid Technical jargon
Incorporate lay-language translations of complicated terms into digital radiology reports.
While the report always needs to consider the expected level of knowledge and expertise of the referring physician, keep in mind that you are also writing a report that will be read by the patient.  Avoid abbreviations unless it is something that is commonly known.
Enhanced Reports – Pictures, Tables, Graphs, and Hyperlinks To Useful Links
Patient understanding is improved by using information that is presented visually or evokes a visual image.  Providing links to patient-focused information also makes the information more accessible.
Information should be presented in a form that precisely illustrates the findings and helps the patient understand the imaging results.
 Approach Bad News Carefully
Bad news needs to be delivered in a simple, supportive manner that states clearly what has been observed.  Jargon should be avoided, and language should be used that creates a supportive atmosphere should be used.
Conclusion About What Double Black Imaging Provides For Your Practice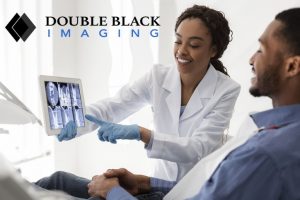 Double Black Imaging, headquartered in Plymouth, MN, has sales and service offices across the USA.  Double Black Imaging is committed to making imaging more efficient, reducing healthcare costs, and strengthening customer service while performing 100% of software development and display integration in the USA.
For more information about Double Black Image, our products, and our services, visit our website at https://doubleblackimaging.com/ or email us at sales@doubleblackimaging.com.