---
What Are Surgical Displays And Monitors?
Surgery monitors and ER monitors provide high quality images that facilitate your ability to successfully perform surgeries and procedures. A quality monitor allows you to see the patient's anatomy in detail and make diagnostic and treatment decisions for the best patient outcomes.
Medical-grade monitors are used in operating rooms, emergency rooms and medical offices.  Displays you use in image-guided procedures such as endoscopy (gastrointestinal, arthroscopic, laparoscopic, or robotic guided surgery) and interventional radiology are usually referred to as surgical displays or surgical monitors.  You can use them to display a variety of critical information, including patient data, x-rays, vital signs, brain activity, endoscopy images, PACS images, surgical feeds, etc.
Types of Surgical Displays
Surgical displays come in a variety of forms, shapes, and sizes.  These devices include displays you can use near a patient (near-patient displays), large screen operating room displays, user interfaces (touch displays), and control displays which are often used in interventional radiology.
Surgical displays can offer high-definition or 4K visualization for presented visual images.  These displays can be mounted on your radiology practices wall, on an equipment column, or on a surgical light arm.
Diagnostic Displays
As a physician or radiologist, use a diagnostic display to view various diagnostic images like Computerized Tomography (CT) scans, Magnetic Resonance Imaging (MRI), and X-rays.
Medical facilities are relying on diagnostic displays more as new procedures require you to employ endoscopic visualization to perform surgery or diagnostic procedures.
High Definition and Ultra High-Definition Surgical Displays
As you rely more on image-guided surgical devices, you can appreciate the movement from High Definition to Ultra High Definition (4K) technology incorporated into new systems and monitors.  A 4K monitor provides four times the image detail compared to High-Definition images. This means that you can see more anatomical detail and more clinically relevant information in order to provide the best service to your patient.
Another benefit of 4K displays is that they provide a wider color gamut.  It provides you with a broader spectrum of reds – which is especially helpful in the OR.  It also provides more detail and color-corrects images, which means you can differentiate tissue types and structures such as nerves, blood vessels, organs, and organic material within your patient.
It is also important to note that with the detail gained with 4K resolution, you gain a better holistic perception and a more immersive environment to operate with greater precision.
Large Format Displays
Simply stated, Large Format Operating Room displays give you a larger viewing area.  They can be mounted on the OR wall so that your entire team can view the surgical site during the procedure.
This feature makes large format displays ideal for use in your hybrid ORs, interventional X-ray and cardiovascular suites.
Important factors in a Surgical Display
           Crisp Image
Clear, crisp images mean you won't have artifacts and visible pixels.  So, you can see the fine detail of the surgical site.  Some surgical displays offer multi-image visualization for viewing multiple images simultaneously in high quality.
The backlight stabilization of surgical displays ensures consistent image brightness and maintained focus for moving images.
Finally, you can see details clearly, even when you are not standing directly in front of the display.  So, there is no need for frequent readjustments of display location and angle.
          Fan-less Design
A fan-less monitor has the advantage of being easier to clean and disinfect, preventing the spread of contaminants and saving your staff time and resources.
Also, the fan noise is eliminated, enabling your team to communicate more effectively, and reducing concerns about errors related to noise interference.
          Ventless Design
Surgical monitors with vents require additional time and effort to clean. You risk contamination of your hands, the patient, or surfaces near the patient if the pathogens are not completely removed by thoroughly cleaning all surfaces.
A ventless design has two great advantages:
It reduces the surface area that you must clean, making cleaning easier and less time consuming.
It also reduces areas where dust can settle, and bacteria can grow.
          Impact-resistant Design
Surgical monitors with impact-resistant shields protect the panel from physical damage, which means your technology investment is protected against collisions with lights, IV poles, and other structures in the OR.
This is particularly important when your staff is working quickly to accommodate frequent turnovers for new procedures.
         Medical Grade Power Supply
A Medical grade power supply has a long lifecycle and minimizes the risk of shock.  Also, you gain protection against a technical or power failure so you can maintain critical information during a procedure.
Why are Double Black Imaging Surgical Displays the Best?
Double Black Imaging is committed to providing you medical imaging technology that enhances your diagnostic capabilities.
Here are just a few of the many reasons Double Black Imaging Displays are the best:
Our displays provide bold, crisp images even when you view them from a distance.
We provide you with the world's most technologically advanced Surgical Displays.
They are built to withstand years of use.
Our monitors give you unmatched quality, clarity, and consistency.
We offer a full line of splash-proof Surgical Operating Room Displays.
Our solutions meet and exceed all surgical imaging requirements.
Our displays offer full HD resolution, ultra-high brightness, and
They support a wide variety of inputs so you can interface with your new or technologies and eliminate costly signal conversion, signal degradation and image lag.
Our monitors to deliver exceptionally fast response time when viewing live video or motion, with in versatility for picture in a picture or picture by picture format.
We guarantee that every display has certification for classification as a medical display.
Why Choose Double Black Imaging?
At Double Black Imaging, we base each product and business decision on how to best serve your needs.  We strive to build a long-term relationship with you by offering the most advanced equipment at competitive prices.
Double Black Imaging began in 2002 with the goal of making medical imaging more efficient and improving healthcare.  We maintain that standard by providing the best value in the industry and by offering technologically advanced medical imaging solutions that enhance diagnostic capabilities, along with exceptional customer service and support.
Premier Customer Service
Double Black Imaging's commitment to making the best decision for you, our customer goes well beyond the sale of OR Monitors.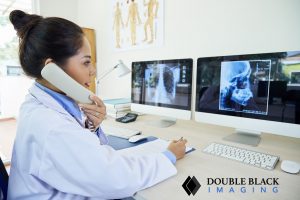 Our industry-leading customer service means we provide you the necessary knowledge and support, before and after your purchase.
To learn more about your ideal OR Monitors or our other products and services, contact us today at (877) 852-2870 or email us at sales@doubleblackimaging.com.